MORE Than a Soup Kitchen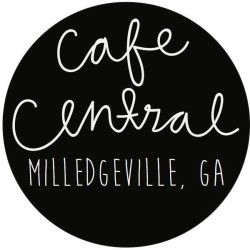 Since October, 2009, Cafe Central has been an answered prayer for many hungry residents of Milledgeville, GA.  Originally, meals were prepared off-site and served in the fellowship hall of Church Central, located on Wilkinson Street.  As the cafe grew, the building next door was utilized to serve as many as 450 guests every Tuesday, with a full kitchen for meal preparation.  Now, relocated to the Freedom Church Family Life Center, Cafe Central continues to be the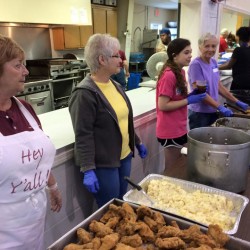 single place in Milledgeville, GA where the hungry can come for a warm welcome and a completely FREE hot meal.  We have the privilege of serving more than 1,000 meals each Thanksgiving.
Every Tuesday, from 11 am to 1 pm, Cafe Central volunteers welcome our guests and seat them, taking their drink order and serving all-they-care-to-eat from the days menu, including bread and dessert.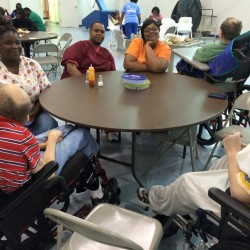 Cafe Central is coordinated by Ann Bowen.  We depend on food and monetary donations to provide the food necessary to prepare the meal each week.  We also depend on many volunteers to greet our guests, cook and serve the food and clean the kitchen and dining area.  Various churches have responded to our need and we have a faithful core of volunteers.  However, we are always looking for more willing hands.
If you would like to make a contribution or volunteer to help on Tuesdays, please call Ann Bowen @478-457-7213 or the Freedom Church Office @ 478-452-7694.
For news and updates, connect with Cafe Central on Facebook!