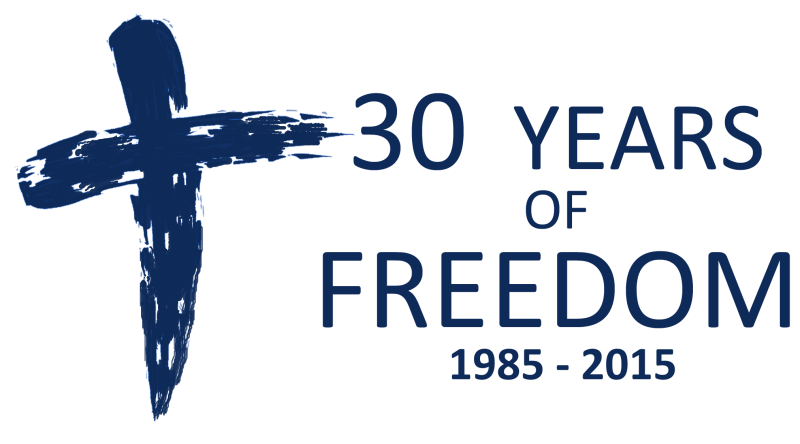 Freedom Church: Core Beliefs and Values
Brother Wendell Thomas had a vision to build a non-denominational church in Milledgeville, GA, while serving in a nearby community. His desire was to establish an independent church that would preach the Gospel without apology and challenge Christians to live a life of holiness, under the leadership of the Holy Spirit. The church family was first established in 1985 on South Wayne Street in a former "dance hall". Brother Wendell loved to tell about those first services on the dance floor.
We, the people of Freedom Church, believe in one God, the Father, Son and Holy Spirit. He alone is the Savior of every person who places their faith in Him alone, for it is "by grace you are saved through faith, and this is not from yourselves, it is the gift of God" (Ephesians 2:8 NET). Further, we believe that those who are "born again" in Christ are called to be holy, both in our character and our conduct (1 Peter 1:15-16). This walk of holiness is made possible as we are filled with the Holy Spirit, who empowers us to change (Romans 12:1-2). We believe God desires for all people, everywhere, to know Him and has sent His Son, Jesus Christ, into the world, not to condemn the world but to save the world (2 Peter 3:9; John 3:16-17).
As Freedom Church gathers for WORSHIP, we are encouraging every believer to love God and glorify Him in all things. As we follow Jesus in DISCIPLESHIP, we trust that He has given us all thing necessary for life and godliness. As we walk in COMMUNITY, we are intent to love as He has loved us and, thus, give witness that we are His and He is for us. As we seek to be the hands and feet of Jesus through COMPASSIONATE MINISTRY, we intend to be known as Kingdom citizens and pursue "shalom" with our neighbors. As we share His love-message through EVANGELISM, we offer hope and healing through Jesus Christ, alone.
At Our Core:
We Submit to Biblical Authority: The Bible reveals God's plan for His people. Our beliefs, practices and priorities in ministry will conform to clear biblical teaching.
We Seek to be Christlike: Jesus, the Word of God, revealed in flesh, defines God's will and relationship with all of humanity. He is our source of new life, saving us from certain death. He is the light, overcoming our darkness. He is the source of our faith, our hope, and our love, as we are being changed into His likeness.
We Proclaim a Gospel of Grace: According to His prevenient grace, God has pursued us, set us apart and enabled us to positively respond to Him. By His justifying grace, He forgives us and restores us into a right relationship with Himself, as we trust in the finished work of Jesus on the Cross. Through His sanctifying grace, He is transforming us and urging us "on to perfection" (John Wesley) through the work of the Holy Spirit.
Discover more specifics about our beliefs here:     Beliefs