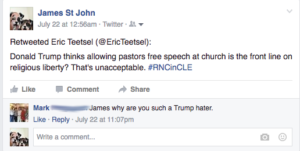 I confess, I am not the MOST politically engaged person in the world.  I rarely watch the news, for a number of reasons.  I do READ the news, however, and make an effort to stay informed from a variety of sources.
This often leads me to like, share, retweet…which is fed into my Facebook feed.  I recently retweeted a real-time comment someone made on a speech that was being delivered by the Republican presidential candidate for the presidency of the good 'ole US of A.  This comment was aimed at the impression left that religious liberty is limited to pastors not being threatened with censure for what they are saying from the pulpit.  The tweet reads:
Donald Trump thinks allowing pastors free speech at church is the front line on religious liberty? That's unacceptable. #RNCinCLE
A friend and brother asked a fair question in the comments below the retweet:
James, why are you such a Trump hater.
I've thought about my response and searched my heart for the appropriate method of responding.  I decided it was best to put it in writing, here…so, here goes:
I LOVE Donald Trump!  I really do.
There are some things I HATE about Trump, however.
I've chosen to outline these things I HATE based upon a familiar and often quoted scripture, Proverbs 6:17-19.  Here's said passage of scripture, lifted from The Message translation:
Here are six things God hates, and one more that he loathes with a passion: 6:17 eyes that are arrogant, a tongue that lies, hands that murder the innocent, 6:18 a heart that hatches evil plots, feet that race down a wicked track, 6:19 a mouth that lies under oath, a troublemaker in the family.
Bible scholar friends, please don't hate on me.  It is merely serving as an outline, here.  I understand I am not "interpreting" this scripture, here.  Also, to my friends who support Trump, don't hear me saying that "God hates Trump," or "God hates Hillary."  There's enough of that sort of rhetoric around.
My thoughts:
Trump exudes an arrogant pride that shouts down nearly every positive thing he tries to say.  That may appear to be an unfair assessment to some, but it is true.  (Secretary Clinton, the Democrative nominee, is just as guilty.)
Trump tells lies.  He is painted by many as a habitual liar, infected with a character flaw that he dangerously believes his own lies.  Have you read the interview in the New Yorker, in which his ghostwriter "tells all?"  (Again, Secretary Clinton is guilty as charged here, too.)
I'm not sure where Trump stands on abortion.  I believe abortion is murder.  In fact, I personally believe that there is no more innocent life that is taken than a baby that is killed through abortion.  There is no room for compromise, as far as I'm concerned.  Trump seems to have an evolving position, depending on where he is and what he is doing.  That is illustrated in an article from the Washington Post.  (Secretary Clinton is clear on her stance, as recent interviews show.)
In Matthew 15:18, Jesus reminds us that what comes out of a person's mouth reveals who that person is.  Trump makes a habit of assassinating the character of those who oppose him.  He calls people idiot, loser, etc. without reservation.  The context of his speech is usually self-promotion at the expense of just about everyone else.  It's sad, really.  (Secretary Clinton…again, guilty as charged)
Examine the life and habits of Mr. Trump.  He may not drink or smoke, as has been reported by so many of my supportive friends on Facebook, but his life is littered with evil exploits, about which he has bragged in print (see his book).  (Secretary Clinton…well, her life has been under a microscope for a long time.  No reason to rehearse it, here.)
We've already mentioned Mr. Trump's penchant for telling untruths, so we'll not visit there again.
Let me just say, my issues with Mr. Trump…and Secretary Clinton, are too numerous to fully address in a blog post.  BUT…
I LOVE Donald Trump!  I pray for him.
The same is true for Secretary Clinton.  I LOVE her!  I pray for her.
The politics of personal destruction, the politics of fear, the political machine that consumes what is right and good in our society, if there is anything, just makes me sick to my stomach.  The fact that people will sell their soul in their quest for political power and influence is beyond disappointing, particularly when I see it happening among my brothers and sisters in Christ.  The scripture twisting that is currently happening to support a candidate is nonsensical.  My heart aches over this…and so much more.
So, I'll continue to share political news, comments, posts, etc. that I find interesting.  My sharing does not necessarily mean I totally agree or disagree.  I have folks I love on both sides of nearly every issue.  Our disagreement enriches my life.
Mark, thanks for asking your question.  I hope my answer has brought some clarity to what I am thinking.  Ultimately, I am but a sojourner, here.  My life and breath is given to a constant seeking of the Kingdom of God and His righteousness.  I continue to wrestle with the issues that face us in this election cycle.  Please, pray for me.  I'm praying for you.